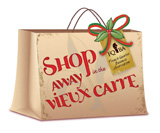 The French Quarter Business Association (FQBA) is excited to host its second "Shop Away in the Vieux Carre" . Kickoff the holidays in all of the fabulous French Quarter businesses; from the boutiques lining Chartres Street to the antiques and arts to be found along Royal Street; find quirky items for those hard to buy for friends and family members, local memorabilia, and even unique jewelry along Decatur St., Toulouse, St. Peter and Dumaine. Take time to stroll around Jackson Square to find something special from the array of new and established gift, clothing and jewelry shops in the Upper and Lower Pontalba buildings.
Antiques
M.S. Rau Antiques Red Tag Clearance
Antiques; Art; Jewelry
610 Toulouse Street in the French Quarter
9:00am - 5:15 pm
504-523-5660
www.rauantiques.com/clearance
Amazing antiques"...irresistible prices. M.S. Rau Antiques specializes in rare antiques, fine art and important jewels.
Royal Antiques
Antiques; Home Accessories; Jewelry
309 Royal Street
9am - 5pm
504-524-7033
www.royalantiques.com
We specialize in 18th and 19th century English and French country and formal furniture, chandeliers, decorative accessories, and fine antique and estate jewelry.
Apparel, Accessories & Gifts
Aerosoles
Her; Shoes/Hats/Accessories
510 St. Peters
10am-6pm
504.529.7463
www.aerosoles.com
Aerosoles shoe styles are made uniquely with quality materials. Comfort once only found in casual shoes is now in every style: dress pumps, boots, and sandals. Comfort women can count on in a range of styles to fit her busy lifestyle.
California Drawstrings
Apparel
812 Royal Street
Hours: 10 am -6 pm
Phone: 504-523-1371
www.californiadrawstrings.com
Ladies and Men Boutique. Supply New Orleans with resort wear parallel to none. Come and shop our great linens and preshrunk cottons.
Cella's Boutique
Apparel; Her ; Jewelry
514 Saint Peter St.
10 am - 7 pm
504-529-5110
www.facebook.com/cellasboutique
Cella's Boutique is a fashion-forward women's boutique specializing in excellent priced, high-quality clothing, along with unique and intricate jewelry. Also rich in accessories, it provides colorful scarves and fashionable footwear for every occasion!
Feet First Shoes, Handbags & Accessories
Shoes/Handbags/Accessories/Jewelry/Apparel/Local Items
526 Royal Street
(504) 569-0005
Mon - Thurs 10-6; Fri 10-7
www.feetfirststores.com
Celebrating 37 years as New Orleans' #1 women's shoe & accessories store, offering 50+ lines of fashion & comfort footwear; handbags; jewelry; apparel; scarves; hats & local designer goods. Voted "Best Shoe Store in New Orleans" by locals for the last 5 years in a row (2009-13)!
Fleurty Girl
Everything New Orleans
632 St. Peter St.
10 - 6 Mon-Sat, 10 - 4 Sun
504-265-8166
www.fleurtygirl.net
Fleurty Girl carries products inspired by New Orleans, and most of the products are made by New Orleanians.
Funrock'n
Apparel; Collectors/Memorabilia;
Toys and Gifts
1125 Decatur St.
11-6 or 7pm
504-524-1122
www.facebook.com/FunRockn.PopCity
Funrock'n has the stuff you want, especially for Christmas! From locally designed, made to order custom t-shirts to collectibles, toys, gifts, costumes, coffee mugs and anything random that you cannot live without! Excellent Prices! "
Hemline
Apparel; Her; Shoes/Hats/Accessories
609 Chartres Street
10-6 M-TH 10-7 F-Sun
504-269-4005
www.shophemline.com
Hemline is a women's apparel, shoes & accessories retailer steps away from historic Jackson Square. We have achieved national recognition as a leader in women's retail by providing superior customer service and an eye for the best new trends.
Jazzy Nola
Her; Him; Shoes/Hats/Accessories
633 Toulouse St
10 am -6 pm
504.324.4420
www.Facebook.com/JazzyNola
Mother & daughter dreamed of having a Boutique in the Quarter. We have apparel, unique jewelry, gifts, custom festive hats, & much more! We also do Balloons for locals!
NOLA Couture
Local Items; Pets
Specialty: New Orleans Inspired Men and Women's Accessories
542 St. Peter Street
10-6 Daily
504-875-3522
www.nolacouture.com
NOLA Couture is a New Orleans-based company creating ties and other accessories with New Orleans and Southern-inspired designs.
Muse Inspired Fashion
Apparel; Jewelry; Shoes/Hats/Accessories
532 Saint Peter Street
10 a.m. to 6:00 p.m. Daily
504-522-8738
www.museinspiredfashion.com
An upscale Men's & Women's Boutique specializing in fabulous jackets and shirts for men and dresses, shoes, jewelry and accessories for women. Designers include Desigual from Spain and Virgin Saints and Angels from San Miguel Mexico.
Pop City Boutique
Apparel; Local Items; Shoes/Hats/Accessories
940 Decatur St
10-6 or 7pm
504-528-8559
www.facebook.com/FunRockn.PopCity
A locally owned boutique with unique and contemporary clothing, denim & accessories. Locally made products & art. The best customer service from our professional stylist. Affordable prices, Great Gifts. FREE Santa Pictures Nov. 16th
QUEORK
Personal Accessories
Specialty: Handbags
607 Dumaine
11-6
918-899-9299
www.queork.com
Luxury Cork Handbags and Accessories: QUEORK's products are all made of cork, have the durability and design appeal of leather yet are resistant to water, fading, fire and stain damage.
Violet's
Apparel:Jewelry
808 Chartres St.
Mon-Thurs: 10-6, Fri & Sat: 10-8, Sun: 10-7
504-569-0088
(no website)
Violet's is an upscale women's boutique specializing in fine clothing and accessories. We carry many contemporary designers including Milly, Shoshanna, Nanette Lepore, Clover Canyon, Rebecca Taylor, and Halebob. "
Art
Dutch Alley Artists Co-Op
Art; Jewelry; Local Items
912 N. Peters Street
10am to 6pm
504-914-1080
www.dutchalleyartistsco-op.com
Celebrating our 10th year at our French Market address here in the Vieux Carre, the Dutch Alley Artists Co-Op is home to 25 regional artists and designers.
Gallery Burguieres
Apparel; Art
Specialty: Wish Dog and Friends
736 Royal St
10am-7pm 7days week
240-994-0851
www.galleryburguieres.com
Gallery Burguieres featuring Ally Burguieres local New Orleans artist, original art, prints, wish granting Wish Dogs and Cocoally apparel!
OMG!
Art; Jewelry; Local Items
912B Decatur St.
10 - 6 Daily
504-522-8443
(no website)
Religiously themed items including local art, vintage statues, Virgin Saints and Angels jewelry, pottery and gifts.
The Green Eyed Gator
Art; Jewelry; Local Items
901 Chartres Street
10am-6pm
504-535-4507
www.greeneyedgator.com
Gallery and gift shop featuring over forty different local artists. Funky, fun, and you can find something for everyone at every price point! "
Books, Memorabilia & Gifts
Audubon Aquarium of the Americas
Apparel; Children/Babies; Museum Shop
1 Canal Street
10am - 5pm
504-212-5145
www.AudubonInstitute.org
The underwater world comes to life! Experience thousands of fish, birds and reptiles including sharks, jellies and FROGS! Visit Parakeet Pointe - Treets for Tweets! Immerse yourself in a BIG sensory experience at Entergy IMAX Theatre.
The Historic New Orleans Collection
Books; Jewelry; Museum Shop
533 Royal Street
Saturday hours: 9:30 a.m. - 4:30 p.m.
504-598-7170
www.hnoc.org/shop
The Shop at The Collection, the museum shop of The Historic New Orleans Collection, carries an extensive array of books, prints, jewelry, stationery & gifts inspired by local culture.
A Simpler Time
Collectors/Memorabilia
Specialty: Vintage signs and decor
518 St Peter St.
10 AM- 6 PM
504-581-6612
www.asimplertime.com
At A Simpler Time, our goal is to bring a smile to every customer who remembers something from their childhood as they stroll through the tranquility of nostalgic art, decor, vintage signs and gifts.
A Tisket A Tasket New Orleans Books & Gift Baskets
Books; Local Items; Other
Specialty: Cajun & Creole Gift Baskets
910 Decatur St.
10 - 6pm, 7 days
504-524-8482
www.atisketatasketneworleans.com
Regional cookbooks, children books, history, ghosts and other regional interest books. Customized Cajun & Creole gift baskets. New Orleans themed aprons, potholders and more. Nationwide shipping/local delivery. Visit us for a unique shopping experience. "
Culinary Items
Creole Delicacies
Collectors/Memorabilia; Gourmet Items; Kitchen/Cooking
533 St Ann St
9am to 8 pm
504-523-6425
www.cookincajun.com
Visit us to sample our creamy pralines and savory Mardi Gras dip. Creole and Cajun specialty products, cookbooks, kitchen gadgets and much more. Collectable cookie jars and other unique items.
Aunt Sally's Pralines
Confectionery; Kitchen/Cooking; Local Items
810 Decatur Street
Mon-Sun 8am-7pm (Closed Thanksgiving Day & Christmas Day)
504-524-3373
www.auntsallys.com
Aunt Sally's specialty is in creating our delicious, hand poured Creole, Creamy, Chewy, and Sugar & Spice pralines. We carry a wonderful collection of merchandise for our customers to enjoy or purchase as gifts.
New Orleans School of Cooking
Gourmet Items; Kitchen/Cooking; Local Items
524 St. Louis Street
M-S 9am-6pm; Sun. 9am-4pm
504-525-2665
www.NewOrleansSchoolofCooking.com
Daily Cooking Classes! Demonstration & Hands-On classes available. The Louisiana General Store offers the best local farmers market products, cookbooks and gifts.
The Spice & Tea Exchange of New Orleans
Gourmet Items; Home Accessories; Kitchen/Cooking
521 St. Louis, Unit #1
M-Sat 11am-6:30, Sun 12p-5p
504-598-5689
www.spiceandtea.com
The Spice & Tea Exchange of New Orleans (TSTE) is a wonderland of fine, savory, exotic spices, custom spice blends, gourmet teas, flavored sugars, salts, seasonings and accessories. "
World Famous Nawlins Cafe & Spice Emporium
Books; Gourmet Items; Kitchen/Cooking
1100 North Peters St. # 15-19
Mon-Sun 8AM to 6PM
504-528-7770
www.WorldFamousNawlins.com
Featured on the Food Network "HeatSeekers" for our signature "Voodoo Hot Sauce. " Shop our expansive selection of N'awlins Spice Blends, Hot Sauces and Entree mixes to enjoy at home!
Home Accessories & Specialty Items
Razzle Dazzle
Apparel; Home Accessories; Jewelry
524 Royal St
10am 8pm
504-568-0001
www.razzledazzle.com
Razzle Dazzle has captured the spirit of the French Quarter by having a unique inventory. Our decorating and gifts ideas will have you feeling the holiday spirit. New arrivals daily to insure that your visit will reveal a new found treasure.
WhatsNew
Art; Home Accessories; Local Items
824 Decatur Street
9am - 7pm
504-586-2095
www.whatsnew-nola.com
WhatsNew offers a unique collection of home accessories and decor as well as gifts for every occasion. We carry many fleur-de-Lis products and feature numerous items created by local artists, including jewelry, hand- beaded and decorative plates and serving pieces, just to name a few.
"
Restaurants, Refreshments & Entertainment
Bourbon Heat
Gift Certificates
711 Bourbon Street
11am-2am
504-324-4669
www.711bourbonheat.com
Unique venue offering delicious local cuisine in courtyard setting & mixing special cocktails downstairs, then upstairs the #1 dance club in the French Quarter.
Bubba Gump Shrimp Co. Market
Apparel; Collectors/Memorabilia; Home Accessories
429 Decatur St.
11am to 10pm
504-522-5800
www.bubbagump.com
Find special gifts for that Forrest Gump fan on your list!
Dickie Brennan & Company
Gourmet Items; Kitchen/Cooking
Gift Certificates
605 Canal St.
11:00am-10:00pm
504-274-1837
www.frenchquarter-dining.com
Dickie Brennan & Company is dedicated to continuing the rich history of New Orleans through locally inspired and nationally recognized cuisine. Restaurants include Bourbon House, Dickie Brennan's Steakhouse, Palace Cafe, and Tableau. Founded by Owner and Managing Partner Dickie Brennan, our four restaurants are located in the city's picturesque French Quarter.
Galvez Restaurant
Gift certificates
914 N Peters St.
Tues " Sat 4pm to 10pm and Sundays 10am to 10pm
504-595-3400
www.galvezrestaurant.com
Family owned restaurant. Chef Laura specializes in Spanish Continental Cuisine. Galvez Restaurant offers an unbelievable, panoramic view of the New Orleans riverfront skyline and the French Quarter. "
House of Blues New Orleans
Apparel; Art; Music
225 Decatur Street
11:30am to 11pm
504-310-4999
www.houseofblues.com
Located in the historic French Quarter, House of Blues, New Orleans' premier live music and special events venue offers a unique space for corporate events, concerts, receptions and weddings.
The Penthouse Club
Him; Music; Entertainment
727 Iberville St
6pm-til
504-913-3764
www.penthouseclubneworleans.com
If you're looking for a typical strip club, New Orleans has plenty to choose from. But we've got the loveliest ladies in the French Quarter, and we're proud to keep the word gentleman in gentlemen's club.
PJ's Coffee of New Orleans
Books; Gourmet Items; Home Accessories
630 Chartres St.
7:00am- 9:00pm
504-210-0392
www.pjscoffee.com
PJ's Coffee serves a wide variety of hot, iced and frozen coffee beverages, organic tea and fresh breakfast pastries. Bags of whole bean coffee and single serve cups of PJ's Coffee are available in-store.
Royal Carriages
Specialty: Carriage Rides
700 Decatur Street
9 am - 12 am
504-943-8820
www.neworleanscarriages.com
French Quarter Buggy Tours :30, :60 & :90 Min tours available
Transfers to hotels and restaurants in the French Quarter & CBD