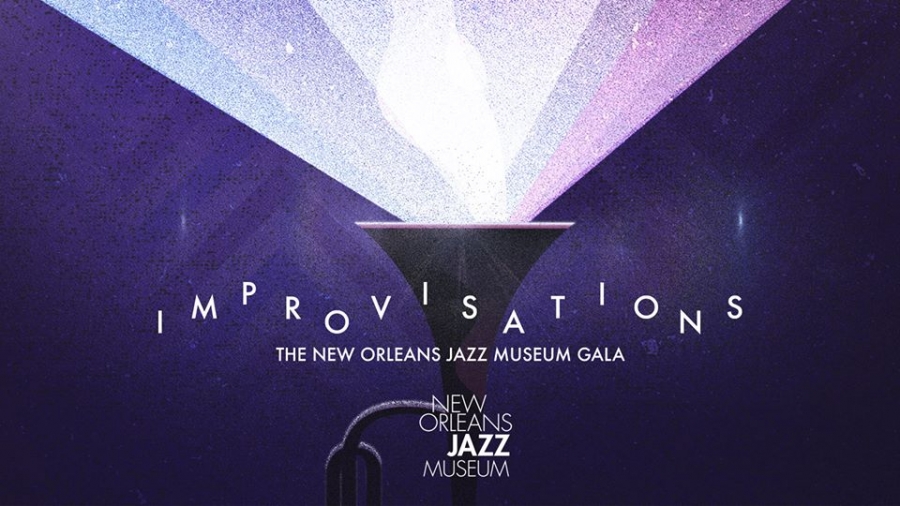 NEW ORLEANS (November 7, 2019) — The New Orleans Jazz Museum hosts the second annual Improvisations Gala on site at 400 Esplanade Avenue, New Orleans, on Saturday, December 7, 2019, from 7:00 pm to 11:00 pm.
Improvisations kicks off at 7:00 pm in the Jazz Museum's intimate performance venue with an exclusive Patron Party, featuring cuisine by Ruth's Chris, cocktails and private musical performances by Grammy award winners Dee Dee Bridgewater and Christian McBride, along with Adonis Rose and Detroit Brooks.
"We are so excited to continue our expansion at the New Orleans Jazz Museum, and offer a wonderful lineup at our second annual Improvisations Gala, as well as food from some of our leading local restaurants, all set within Sound Collage, a Luna Fête celebration of light and music." said New Orleans Jazz Museum Director Greg Lambousy.
The Improvisations Gala main party takes place from 8:00 pm to 10:00 pm throughout the galleries and grounds of the Jazz Museum, with an abundant mix of New Orleans finest cuisine and cocktails. The Gala features entertainment by Big Freedia, Lena Prima, Charmaine Neville, Trumpet Mafia, Meschiya Lake, The Pinettes Brass Band, Seth Finch Trio, Big Queen Mary Kay Stevenson of the Original Wild Tchoupitoulas Mardi Gras Indians, Carol "Kit" Harris and N'awlins Dawlins Baby Dolls, Treme-Lafitte Brass Band, Herlin Riley and Wendell Brunious with Trombone Shorty Academy and students from the New Orleans Center for Creative Arts. Food offerings include specialties from Galatoire's, Dickie Brennan & Company, Acme Oyster House, Monty's on the Square, Desi Vega's Steakhouse, Creole Cuisine, Mahony's, Dorignac's, Mr. B's, Kajun Kettle, Katie's, la Madeleine, Lucy's Retired Surfer Bar, 12 Seasons, Langenstein's, Leidenheimer Bakery, Pigeon Catering & Events, Rocky & Carlos, Baker Maid, Louisiana Pizza Kitchen, and other favorites.
The Gala also features live painting demonstrations from Emilie Rhys, alongside a live and silent auction by Black Tie Auctions that includes a wide array of coveted items, travel packages, VIP festival experiences, eclectic art, a fishing charter, in-home catering, fine jewelry, and much more.
Through a partnership with Arts Council New Orleans, LUNA Fête returns to the French Quarter to illuminate the grounds and gardens of the Jazz Museum for Improvisations, transforming its historic architecture into a playground of light, art, and music. This spectacular Sound Collage celebration features illuminated installations, digital sculptures, video-mapping projections, art animated by technology and musical performances.
Lt. Governor Billy Nungesser, Herbie Hancock, Wynton Marsalis, and Harry Hawks serve as Honorary Improvisations Gala Co-Chairs, while Randy Fertel, Gianna Chachere, Rosalind Hinton and Tamara Kreinin are serving as Co-Chairs of the Gala Steering Committee.
"The New Orleans Jazz Museum fills a role we locals have long felt needed filling, a place to celebrate and to disseminate the birth of jazz story," said Randy Fertel, Improvisations Gala Steering Committee Co-Chair, "The Improvisations Gala, a great party with all that great music and food, reminds us that jazz began as entertainment, as fun, an aspect of the music never lost in New Orleans."
All proceeds from Improvisations will further enhance exhibits, music programming, events and the Jazz Museum Education Center, allowing the Jazz Museum to globally promote jazz as one of the most innovative, historically pivotal musical art forms through highly-interactive exhibits, as well as support ongoing musical and educational programming.
Tickets to the Improvisations Gala are now on sale, available online or at the door, card or check only. Gala tickets start at $100.00 per individual. Patron tickets are $250.00 per individual. New for 2019, Improvisations offers a "Late Wave" ticket for $30.00, allowing individuals to enjoy the last hour of the Gala from 10:00pm to 11:00pm. As an added perk, Lyft is offering a 20% discount on one-way transportation. Cocktail attire is encouraged, all guests must be 21 years of age or older. The public is invited to Improvisations. For tickets and sponsorships, please visit www.nolajazzmuseum.org/gala.
Email any Gala inquiries to gala@nolajazzmuseum.org. The Improvisations Gala is made possible by the generous support of the New Orleans Arts Council and LUNA Fête, Ruth's Chris Steak House, Cadillac of New Orleans, French Quarterly Magazine, Ruth U. Fertel Foundation, Gia Maione Prima Foundation, Fidelity Bank, Venue New Orleans, Royal Frenchmen Hotel, New Orleans & Company, Southern Glazer's, Deutsch Family Wine & Spirits, Doerr Furniture, New Orleans Ernest Morial Convention Center, Beatties Distillers, LCI 30, Crescent Crown, Coca-Cola Bottling Co., Faux Pas Prints, Solomon Group, Abita Brewery, Le Bon Temps Roule, Mahony's, OffBeat, Sazerac, Telemundo 42, Jazz Foundation of America, The Times-Picayune New Orleans Advocate, St. Charles Avenue Magazine, Cumulus Media, RNDC, Where Y'at Magazine, Meyer Sound, and numerous restaurants, donors and supporters.
About The New Orleans Jazz Museum Located at the juncture of the French Quarter where Esplanade Avenue meets Frenchmen Street, an epicenter of live music in the city, the New Orleans Jazz Museum celebrates jazz in the city where it was born. Through dynamic interactive exhibits, multigenerational educational programming, research facilities and engaging musical performances, the music New Orleans made famous is explored in all its forms. Through partnerships with local, national and international educational institutions, the New Orleans Jazz Museum promotes the global understanding of jazz as one of the most innovative, historically pivotal musical art forms in world history. For more information on upcoming performances, visit www.nolajazzmuseum.org. Follow us on Facebook, Twitter and Instagram @NOLAJazzMuseum.