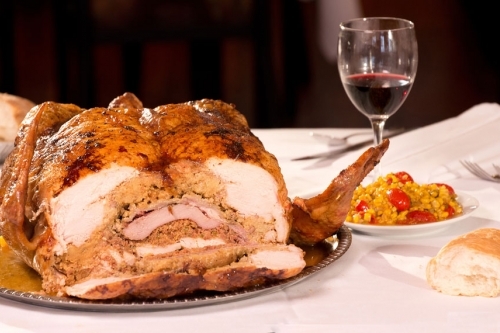 On Thanksgiving Eve, K-Paul's Louisiana Kitchen, founded and still run by the Prudhomme family, offers a Turducken Dinner. Developed by the late, much-loved Chef Paul Prudhomme, a turducken is – well, a glorious treat, boneless, with a chicken stuffed inside a duck and the duck and the chicken stuffed inside a turkey. Each bird will have a different, delicious, dressing inside. The chicken will have oyster dressing inside, andouille for the duck and cornbread dressing for the turkey. After the turducken is roasted, it will be carved into thick, slices with layered delicious flavors and textures, and served, along with Chef Paul's Sweet Potato Eggplant gravy. The restaurant's entire menu is also available on Thanksgiving Eve.
For more information or reservations, contact the restaurant. K-Paul's Louisiana Kitchen, 416 Chartres Street, 504 596-2530 or click here
Information for this blog post from taken from our featured article "Holiday Dining, New Orleans Style" by Brenda Maitland. Read full article here.