The French Quarter has long been epicenter of New Orleans' historic restaurants. Some of the city's (and the country's) oldest, most revered restaurants are scattered along the cobblestone streets of the Vieux Carre. Nestled near these bastions of New Orleans dining, a batch of new restaurants has joined the culinary gumbo of the French Quarter. Here's a look at the latest.New Orleanians need no excuse to stop everything and enjoy the good things in life - our ability to celebrate any occasion is legendary, and these moments are nearly always (okay, always) feted with an abundance of food and drink. Give us a bona fide occasion like the holiday season, and we pull out all of the stops. Case in point: reveillon, that only-in-New-Orleans feast traditionally served after midnight mass on Christmas Eve. This Creole custom played out in the homes of French-Catholic families in old New Orleans, and was defined by rich, indulgent ingredients and dishes like turtle soup, oysters, elaborate puddings and fine wines. Today, the tradition has been adopted by restaurants around the city - some as part of an organized group of restaurants promoting reveillon dinners, others simply offering prix fixe holiday menus for locals and visitors to enjoy. Here, some of New Orleans best chefs share memories of their favorite holiday dish and the best wines to drink with it.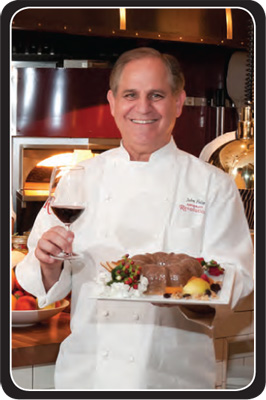 John Folse, executive chef/owner, Restaurant R'evolution at Royal Sonesta
Dish:
Daube Glace
Wine: Anne & Herve Sigaut, Chambolle-Musigny 'Derriere Le Four' 2008
"Daube is a classic French stew made with less tender, or even cheap, cuts of meat. I cannot imagine a reveillon dinner at my childhood home in St. James Parish that did not include a classic daube. The dish was usually made with a beef shoulder roast that was slowly braised or boiled into an elegant country dish. The daube simmered long and slow in a bath of red wine and water, the smell wafting through our house, which was already permeated with the smells of petit gateaux and freshly baked salmis pies. Although we longed for the flavor of this dish, nothing was more anticipated than the leftover daube that was converted the next day into daube glace. This cold terrine of deliciously flavored meat was served with toasted French bread croutons as a magnificent continuation of our holiday feast."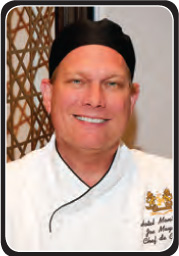 Joe Maynard, chef de cuisine, Criollo at Hotel Monteleone
Dish:
Cassoulet
Wine: Bordeaux "I have many memories of reveillon from when I first moved to New Orleans. My good friend insisted that my wife and I accompany her to her parents' house for dinner on Christmas Eve. There were over forty people at her house and we ate for nearly three hours with so many courses coming and going I lost count. We had dessert near midnight and over a dozen to choose from. That was my introduction to a reveillon meal.
I love cassoulet and it always seems to find its way onto my table in December. The warm beans and meats really just bring back comforting memories of good times with friends and family. I have been making it for nearly twenty-five years."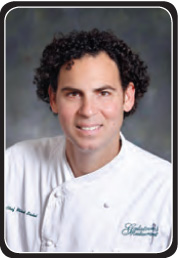 Michael Sichel, executive chef, Galatoire's
Dish:
Lentils with pork, foie gras and a touch of clove
Wine: Carneros, California Pinot Noir
"I had never heard of a reveillon dinner until I moved to New Orleans 10 years ago. I traveled the world honing my cooking skills, and while all of my experiences have been rewarding, no other location has taught me celebration quite like New Orleans. Reveillon is a last meal indulgence. I try to include lentils in my reveillon menu every year. Lentils symbolize wealth and the New Year's ambitions."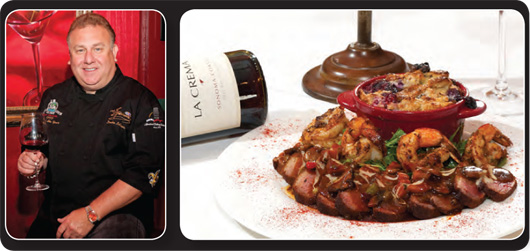 Duke Locicero, chef/owner, Cafe Giovanni
Dish:
Duck Decatur
Wine: La Crema Pinot Noir
"Holiday meals were a great time for me, because it meant seeing all of my family together. My grandmother was from New Iberia, but she married my Sicilian grandfather at 16, so she knew both styles of cooking - Sicilian and Cajun - from early on. Her specialty was a duck breast marinated in Cajun spices, similar to the Duck Decatur I serve on my holiday menu at the restaurant. We don't get together like we used to, and I miss that, but this dish has great memories for me."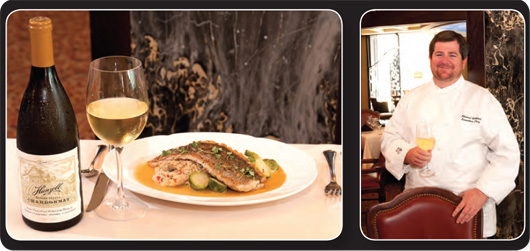 Michael Gottlieb, executive chef, Rib Room
Dish:
Trout with andouille and oyster cornbread stuffing
Wine: Chateau Potelle Chardonnay
"I'm from Savannah, Georgia - for me, the best holiday dish is a killer, spiral-cut country ham. But here, it's all about local seafood and every family seems to have their own particular dish, whether it's oyster patty shells or shrimp-stuffed mirliton. But at the end of the day, it doesn't matter where you're from or what the special dish is, it's about getting together, being surrounded by family and friends."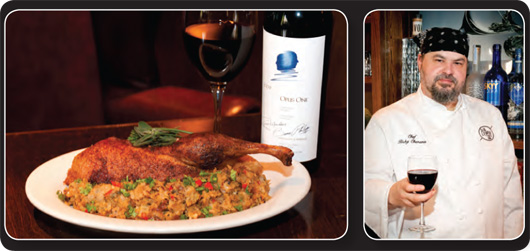 Ricky Cheramie, executive chef, Bombay Club
Dish:
Wild duck stuffed with oyster dressing
Wine: Berringer Cabernet Sauvignon
"I'm from Galliano in Lafourche Parish. Growing up in the country, wild game was the big thing for us in the holiday season. Holiday meals started with hunting and fishing. We'd go duck hunting in the morning, catch fresh oysters afterward - everything was caught that day, and we put it all together for a huge family dinner in the evening."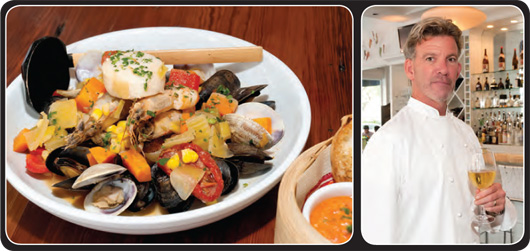 Mike Fennelly, executive chef, Mike's on the Avenue
Dish:
Bouillabaisse
Wine: Viognier de Jean, Michel Gerin
"I live in the French Quarter, and I love the traditional fanfare that happens - the decorations everywhere, the carolers in Jackson Square. The weather is suitable for more comforting foods, like the adapted bouillabaisse on my menu. It's a French recipe with my own twist on it, with New Orleans ingredients like Herbsaint, redfish and jumbo gulf shrimp. It's always on our winter menu."