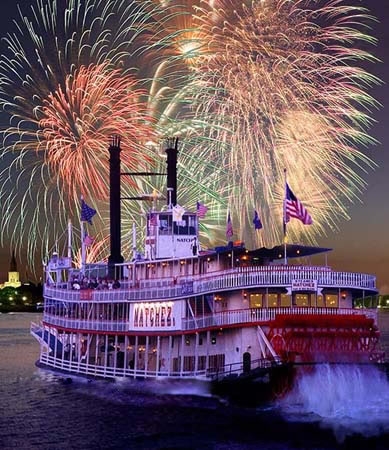 The Riverfront Marketing Group will once again host Go 4th on the River Dueling Barges Fireworks Show, beginning at 9pm over the Mississippi River. Other displays hosted by the Port of New Orleans will begin at 6pm.
Over 30 companies, local media and community sponsors are gearing up to present this event.
 New Orleans' Dueling Barges Fireworks Show has been recognized as one of the "TOP Five Must-See" fireworks displays in America by the American Pyrotechnics Association. The free fireworks display can be seen from the East and West Banks of the Mississippi River from the Outlet Collection at Riverwalk to Crescent Park at French Market.
Watch for new and unique fireworks in this year's Dueling Barges display—Purple Rain (Falling Leaves), Sunflowers, Cube Pattern, Horse Tails, Waterfalls, Meteor Shower, and Lemon Strobe! Many of these shells take several seconds to form up in the air but create a gorgeous, slow-moving cascade that creates a beautiful reflection on the surface of the Mighty Mississippi River. The display has also been designed with dozens of Rising Tail Shells that allow the audience to follow their ascent as they reach their zenith hundreds of feet up in the air, then burst into a huge floral pattern. There will be many unique photo opportunities for both the professional camera folks and the everyday cell phone photographers! More info